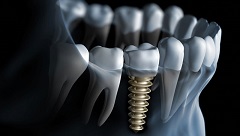 When talking about dental implant surgery it is important to note that under the right conditions most surgeries of this nature enjoy success rate that is 98% or greater. This is an amazing statistic considering that just a few decades ago it was impossible to replace lost teeth in such a permanent and secure way. With such a high success rate, a growing number of people across the world are choosing dental implants over dentures and other tooth replacement solutions. Because implants are embedded directly into the jawbone they look and act just like natural teeth.
They Prevent Bone Loss in The Jaw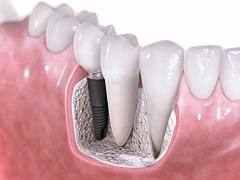 Those who have experienced the inconveniences associated with fixed and removable bridges and dentures know the short fallings of these types of tooth replacement technology. That said dental implants are unique in that they do not affect surrounding healthy teeth. In addition, they are beneficial in a big way simply do to the fact that they prevent bone loss in the jaw. When dental implants are properly cared for in a conscientious way they can easily last a lifetime. While dental implant surgery is not for everyone, this is a technology that should be seriously considered if tooth loss is a problem [1].
In Some Cases Bone Grafting may be Required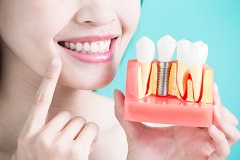 Keep in mind that oral surgeons that specialize in dental implant surgery have gone through additional training beyond standard dental school. This allows them to perform advanced types of surgery to ensure that dental implants are placed properly and effectively. A trained surgeon that specializes in oral surgery has the skills needed to deal with the complexities of placing dental implants directly into the jawbone. While in some cases bone grafting is required, in other instances patients can enjoy fast and efficient surgical procedures that result in permanently placed dental implants [2]. Contact your Pewaukee dental care provider, Dr. Hamedi at Healthy Smile Dental Care today to learn more about dental implant surgery and all that it makes possible.