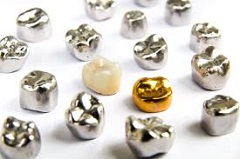 Typically speaking, today dental patients have option that gives them the ability to choose from four different types of dental crowns. Keep in mind that a dental crown is simply a prosthetic piece that is cemented onto a tooth as a way to protect it. A crown is also frequently referred to as cap. It covers and protects a damaged tooth quite effectively. Crowns are designed by simply taking an impression of the tooth that needs to be repaired. Once this has been done, the tooth is then reduced in size so that the crown may fit properly.
Porcelain Fused To Metal is Another Type of Crown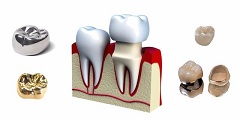 The first type of crown is something known as a ceramic crown. These are frequently used in the restoration of front teeth. Most importantly, ceramic crowns blend quite well with natural tooth color because they are made of porcelain based material. In addition, porcelain fused to metal is another type of crown worth considering. This offers a stronger bond than regular porcelain. This is due to the fact that it is fused with a metal structure that is very durable and long lasting. Equally important is something known as gold alloys. This is a type of crown that is a mixture of copper, gold and other alloy metals.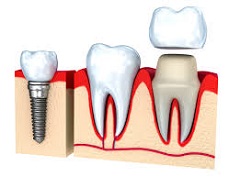 Base Metal Alloy Crown
It offers a strong and lasting bond to the tooth so that it will not fracture, breakaway or wear down over time. Finally, the fourth type of dental crown to consider is something known as a base metal alloy crown. This is a type of crown that is made of other kinds of metal and that is highly resistant to any potential corrosion. It provides a strong and lasting crown and is very useful for situations where patients require that a minimum amount of healthy tooth be removed prior to placing the crown. If you Still have questions about different types of dental crowns, contact your dentist in Pewaukee, Dr. Hamedi at Healthy Smile Dental Care today for more information.